I just got a beefy Dell D830 at my work which was loaded with 4GB of RAM as 32-Bit OS (Vista/XP) does not support 4GB of RAM I decided to go with 64-Bit version of Vista Enterprise.
I went ahead to the Dell site and looked up drivers for D830 on Vista 64-Bit platform here is the link
http://support.dell.com/support/downloads/driverslist.aspx?os=WV64&osl=EN&catid=-1&impid=-1&servicetag=&SystemID=LATITUDE+D830&hidos=WW1&hidlang=en&TabIndex=
Issues:
– Also I had the Finger Print scanner made by UPEK for which the drivers were available but not the software which can utilize the scanner.
– Figured out that there are no driver for the TouchPad which is made by Alps. But decided that this is not that important.
So I went ahead and everything was smooth and all the drivers worked from the Dell site. So now I focused to get the above mentioned things working.
 Making UPEK Scanner work
I got to this blog post http://nyxtom.vox.com/library/post/installing-fingerprint-login-with-vista-on-thinkpad-t60p.html and followed the instructions here to download the FingerPrint scanner/Reader software from IBM site http://www-307.ibm.com/pc/support/site.wss/document.do?sitestyle=lenovo&lndocid=MIGR-66948 which apparently was moved to previous version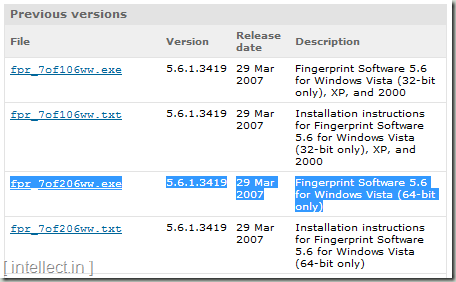 Download, install, reboot, login and then start the User Enrollment software from the program group NOTE: I did not configure or apply the registry setting as instructed on the blog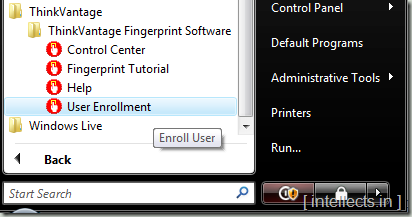 Well I would not go beyond this and can always refer to additional help from the software or Google.
Making Touchpad work with additional features
I did go to lot of blog and forums and finally found this one which helped me get to Alps driver for Vista 64-Bit http://forum.notebookreview.com/showthread.php?t=158277&page=1
Here is the link to driver R157047.EXE which worked and thus helping me to use the scroll zones and finetune the touchapad and pointing stick settings.
So anyone with different experience or issue can leave a comment and will try to see if i can help.